---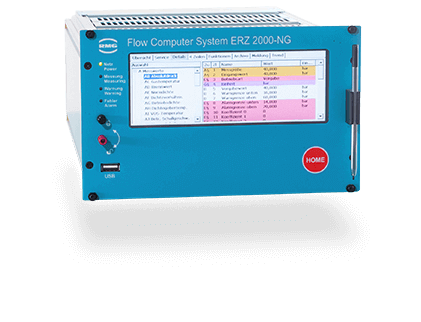 ERZ 2000-NG Flow Computer Series
Available as:
Flow corrector based on state variables
ERZ 2004-NG
Flow corrector based on calorific value
ERZ 2104-NG
Differential pressure calculator
ERZ 2114-NG
Parallel calculation of compressibility according to all established methods, (e.g., GERG 88 S, AGA 8, AGA NX 19 or Beattie-Bridgeman)
PC-based computer
Graphical display and easy operation on the touchscreen
PC operation via any Internet browser
Parameters, constants, limit values freely programmable
Error curve linearization of the gas meter
Testing functions (freezing measured values, calibration during operation, function test)
Data logging feature
Programmable archive
Remote data transfer
DSfG control point function
Optional plug-in Ex-i card for pressure, temperature and volume inputs
Plug-in modules, 19″ plug-in
PTB / MID approved
Connections
2-channel volume input
Digital and analogue inputs
Impulse and analogue outputs
DSfG interface according to DVGW G 485
Modbus interface (ASCII/RTU/TCP)
2 x Ethernet TCP/IP network interface

Ambient temperature
-20 °C to +55 °C
Technical Product Information & Declarations
Operating & maintenance manuals
You might also be interested in...
Is the ERZ 2000-NG the right product for your project? Discover also other RMG products with similar characteristics. The combination of multiple devices or applications also enables more accurate measurement and makes your processes even more efficient.